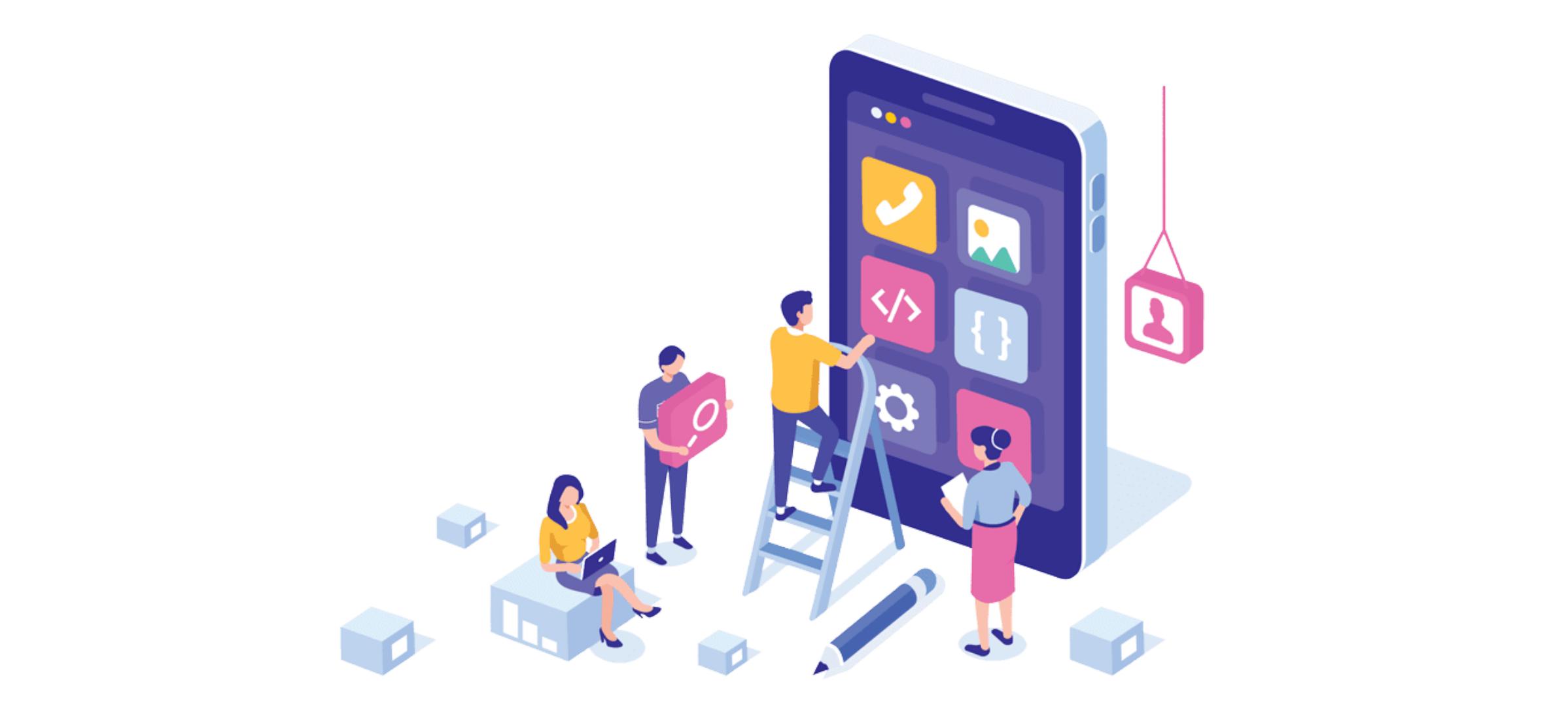 Mobile App Development
Adiyogi is one of the fastest-growing app development company in Jodhpur having 100+ happy and fully satisfied customers. The mobile app development is one of our expertise areas including e-commerce, Retail, Multimedia, Healthcare, Education, Learning system, Advertising, Employee attendance system, and many more.
We believe in empowering businesses with smart and unique strategies that make you ahead of your competitors to increase your business sales.
Three different types of mobile interface in which we are working:
Native App
A native mobile app is one that is designed for a particular operating system whether the platform is Android or IOS. Our Jodhpur's expert team designed in a way that it uses the other latest technology for the working like the GPS system, live tracking, payment gateway, etc. It is inbuilt coded in a specific programming language and uses the code preliminarily. We as an Android app solution company in Jodhpur recently solved 50+ business app issues.
React Native app
A react native mobile app is one that is designed for multiple operating systems. We are Jodhpur's best React Native app development, an IT company that provides goal-oriented, result-driven, and tailor-made mobile solutions to thousands of clients globally.
Connect with us to get faster and seamless cross-platform mobile development solutions that are rich in performance, scalability, and technology.
App development company in Rajasthan

The application market is currently boomed with hundreds of different kinds of apps such as social media apps, ecommerce, home service providers, Management apps, etc and each one has its own unique and fabulous working style.
We as a top growing IT company in Rajasthan suggest If you want to reach out to your customers, you must have an app related to your business services, products to generate high ROI. Our highly skilled developers are committed to delivering trouble-free Android & cross-platform supportive apps.
What's extra among other Software company in Rajasthan
We boost the visibility of your enterprise by providing an agile app development process to deliver guaranteed bug-free solutions.
We understand the change in the scenario of business technologies and make ourselves in harmony with the current trends to create highly customized applications.
Our quality work will turn you each time to take our Android app development services to set a rich quality level among your competitors in the market.
We ensure the reliability, integrity, scalability, user-friendly interface of our applications and make sure that your business enhances its reach, engaged with more customers/clients, and ROI.
We specialize in developing Android applications as well as developing hybrid apps. Our aim is to understand your ideas and needs and convert them into highly efficient applications that represent your real business picture in front of the audience.
   Mobile Apps have many Categories-
Business Apps
Education Apps
Entertainment Apps
Travels Apps
Game Apps
Ecommerce Apps
Social Networking App etc.
The extra effort from us: There is no concern about the kind of project you have in mind, let's explore with us. From minor upload facilities to complex content management system or complex booking system to a fully functional eCommerce solutions, our App development company in Rajasthan love to take the challenge to meet your needs.
Cross-Platform App Development Company in Jodhpur, Rajasthan.
We have the expertise to build highly functional and well-defined hybrid applications that are compatible with all the devices and work efficiently on all platforms. Save your time to do things manually and resources by developing cross-platform applications with our justified methodology
Hybrid apps are the most engaging user-friendly modern framework in app development to Optimize time, Enhance audience reach, and be cost-effective.
Features/Benefits:
User-Friendly
Light-weighted code
Sensible costs
Quicker development time
Faster Development
Easy to test
There are various advantages of app development some of them are like
Huge savings of time and money with no compromise on quality.
Premium Quality Apps designed to meet your requirements.
Technical ability and infrastructure to cater to almost all types of mobile apps.
Rich Mobile User experience developed over the years of implementation.
Mobility Solutions that emphasizes business transformation and speed to market.
Upgrade apps with changing platforms to gain maximum functionality and features.
It gives more importance and value to the customers.
Help in the growth of the business. It increases worker productivity.
Have any Questions?
Call us Today!
Brochures
You can download service brochure and know more about our service.
Service Inquiry
If you have any Inquiry about service related then please contact us.